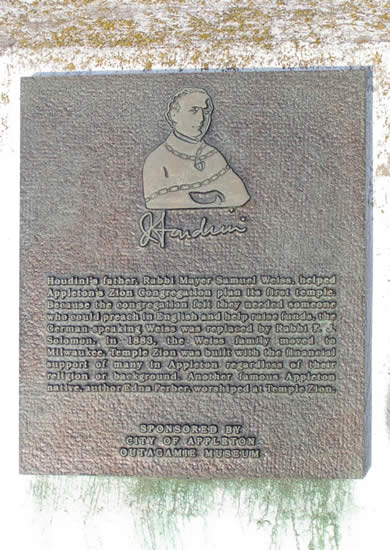 Houdini Plaque in Front of Temple Zion
Temple Zion was joined the National Register of Historic Places in 1978.
Text reads:
Houdini's father, Rabbi Mayer Samuel Weiss, helped
Appleton's Zion Congregation plan it first temple.
Because the congregation felt they needed someone
who could preach in English and help raise funds, the
German speaking Weiss was replaced by Rabbi F. J.
Solomon. In 1883, the Weiss family moved to
Milwaukee. Temple Zion was built with the financial
support of many in Appleton regardless of their
religion or background. Another famous Appleton
native, author Edna Ferber, worshiped at Temple Zion.
SPONSORED BY
CITY OF APPLETON
OUTAGAMIE MUSEUM